BACKGROUND
Experienced Digital Preservation and Digital Library/Archives Specialist with a demonstrated history of working on large scale, industry leading media and special collections initiatives. Skilled in Management, Digitization and Quality Assurance, Problem Solving, Product Development, Collection Management, and Digital Engagement.
Extensive experience coordinating between technical teams and business stakeholders. Strong "do-er" mentality with excellent written and verbal communication skills and attention to detail. 2006 Master's degree in Film/Media Studies from the University of East Anglia including a groundbreaking thesis; "Accessing Film Media: Users, e-Commerce and Archives in Cyber-Space."
With over a decade of experience as a Media and Digital Collections Specialist in universities, government archives, museums, and the private sector with a focus on Digital Preservation projects, I provide dynamic leadership in support of digital collection building, digital archives, and digital preservation.
• Secured over $15 Million in Grants for Digitization Projects
• 10 + Years Experience Collaborating on Industry Leading Digitization & Access Initiatives
• 10 + Years of Involvement in AMIA & ARSC and a Record of Scholarly Engagement
Education
MOR ASSOCIATES IT LEADERS PROGRAM (ITLP) • 2018
Indiana University IT Services, Bloomington, IN
MA FILM STUDIES WITH ARCHIVING • 2007
UNIVERSITY OF EAST ANGLIA
Norwich, England
Thesis: Accessing Film Media: Users, e-Commerce and Archives in Cyber-Space [2007]

BA FILM STUDIES • 2006
CHAPMAN UNIVERSITY
Orange, California
Magna Cum Laude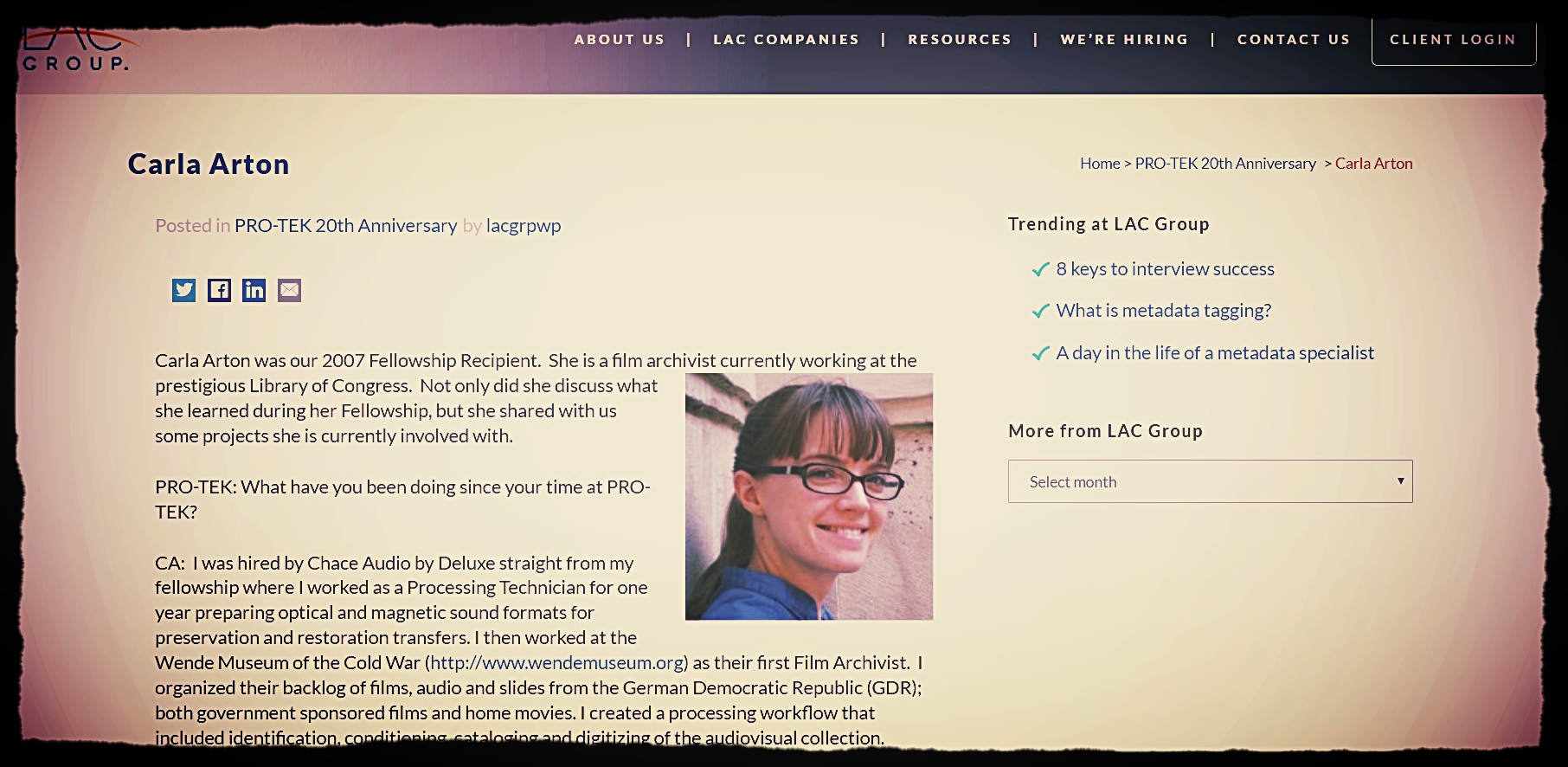 EXPERTISE
Project Planning and Management • Resource and Timeline Management • Agile Project Management • Leadership & Collaboration • Strategic Vision • Risk Assessment • Digital Preservation and Reformatting • Digital Engagement • Quality Control • Special Collections • Database Design • Cataloging & Metadata • Conservation & Restoration • Vendor Relations • Website and Social Media Management • Grant Writing/Reviewing
PLATFORMS & MANAGEMENT SYSTEMS:
Tableau • JIRA • Box • Kuali Financial System • ePTO • Learning Management Systems • Project Management Systems • Windows Office 365 Suite • Adobe Creative Suite • WaveLab • VidiCert • MediaInfo/MediaConch • FFmpeg • Diamant Film Restoration Suite & Annotator • FinalCut Pro • GitHub • QCTools • Fedora • Omeka • HydraDAM | Phydo • Avalon Media System • Blacklight • Voyager • Mavis • ArchivesSpace • Archivematica • WordPress • SquareSpace • Basecamp • Drupal • Survey Monkey • HootSuite